On National Agriculture Day 2022, Northern Mallee LLEN endeavoured to highlight the Agriculture Industry by interviewing a leading Agriculture Research Scientist and showcase how newer technologies, research, innovations, and sustainable farming practices are currently transforming the Ag Industry in our region. Dr. Zelmari Coetzee, is a Mildura-based Senior Research Scientist currently working at Agriculture Victoria.
Zelmari has extensive research experience in the physiology of grape vines and almonds both in Australia and in her native South Africa. She has been part of a larger research program at Agriculture Victoria on almond productivity and on developing future almond production systems. Zelmari is using the Mildura SmartFarm as a platform to investigate the design and performance of more intensive production systems and assess new technologies to assist in orchard management.
Agriculture Victoria has five SmartFarms across Victoria's agriculture regions including Ellinbank, Hamilton, Horsham, Tatura, and Mildura that form a research ecosystem that enables transformative science and technology developments and fast-tracks adoption of innovations in agriculture.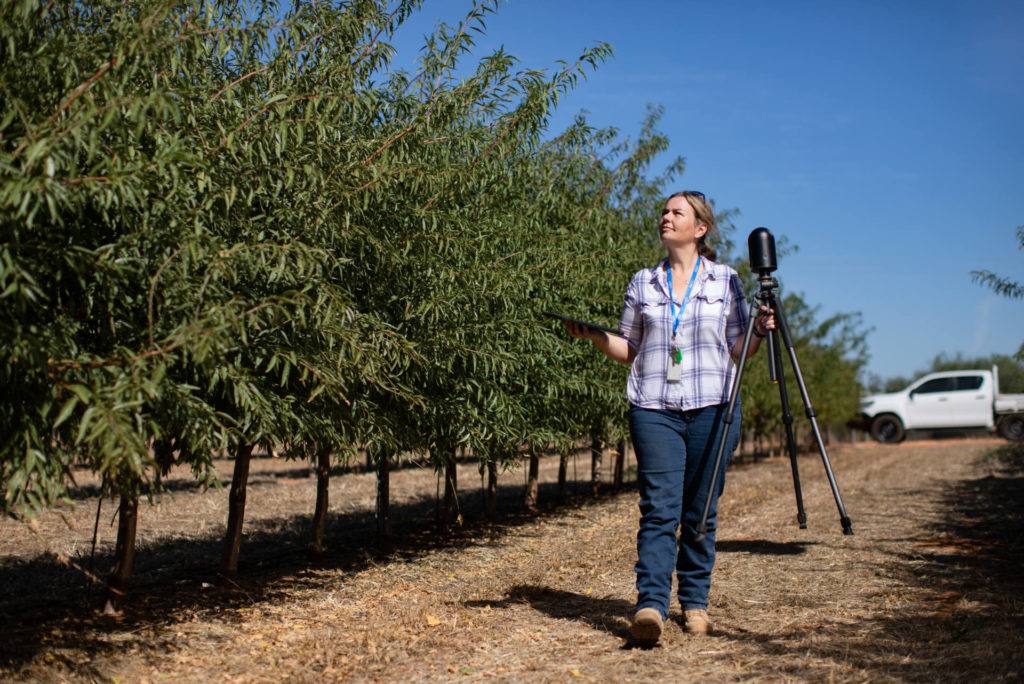 The SmartFarms capture and bring together technologies and data to support smart information and are connected to each other and to the leading-edge big data and systems biology capabilities at AgriBio, the Centre for AgriBioscience, in Bundoora. The SmartFarms also play an important role in the development of skills related to Victoria's major agriculture industries.
Zelmari has developed the use of LiDAR (Light Detection and Ranging) to visualise almond tree architecture and simulate the impact of pruning strategies.  She has also investigated the drawing down of soil water to develop benchmark "on" and "off" points for sensor outputs in relation to autonomous irrigation management.
Please share a bit of information about yourself and the roles you have held.
Currently, I'm a senior research scientist for Agriculture Victoria and based in Mildura. I started my career in South Africa as a technical officer at Stellenbosch University doing research in Viticulture. I moved to Australia eight years ago after getting a scholarship from the ARC Training Centre for Innovative Wine Production to do a PhD in Viticulture. Towards the end of my PhD, I saw my "dream job" advertised; Conducting research while being involved with the industry. Even though it meant that I had to move away from Viticulture to almonds, I was ready for the challenge.
How did you end up choosing to work in the agriculture Industry?
I grew up in the city with no connections to farming and ended up in agriculture purely by chance. Like many students, I had no idea what I wanted to do after school, but I clearly knew what I did not want to do. Browsing through the career guidance book the last job listed was Oenology (i.e., winemaking). Ticking all the boxes I ended up moving to the other side of South Africa to study Oenology and Viticulture at Stellenbosch University in the heart of the winelands. As part of my degree, I had to do a compulsory harvest season in a winery, and as luck had it, I worked with a winemaker who recognised that I had a natural aptitude and passion for Viticulture. He made an effort to encourage this passion and I subsequently specialised in Viticulture in my postgraduate studies.
How are you innovating and using the current technologies?   
The AgTech industry has exploded in the past few years and technology has become more accessible and affordable. We use several innovative new technologies to manage the Mildura SmartFarm and to demonstrate to the industry how these technologies can be used to manage their own crops.
What are some of the new practices and technologies that can make farming more sustainable and productive?
Sustainable food production is also at the forefront of international and local strategies. Our next exciting step in sustainable management is the use of variable-rate spray technology to apply agrochemicals. This technology controls the output of the spray equipment to only apply chemicals to where the canopy is present and to adjust the volume that is applied according to the canopy's density. This not only has economic benefits for producers, with large savings on chemical costs but also greatly contributes to the environment by reducing spray drift.
What do you like about working in agriculture?
It's very rewarding to be able to advise producers on how to improve their management practices and help regional and rural communities by supporting local agricultural industries. It's also exciting to see and evaluate all the new technological innovations as they become available. And it's one of the few careers where you can spend time outside instead of in the office!
Do you have any advice for newcomers to the agriculture industry?
There are so many opportunities in agriculture, especially in AgTech. Agriculture is an exciting industry that is constantly evolving and growing, and most of the opportunities are in regional and rural areas. There are so many new innovations popping up that are helping the industry to grow and be more productive and sustainable. Be curious about developments and try new things!
Apart from extensive research experience in the physiology of grape vines and almonds, Zelmari has also gained experience in climatology, geographical information systems, and remote sensing. Thanks to Dr. Zelmari and Agriculture Victoria for the above interview.
Image Credit: Agriculture Victoria